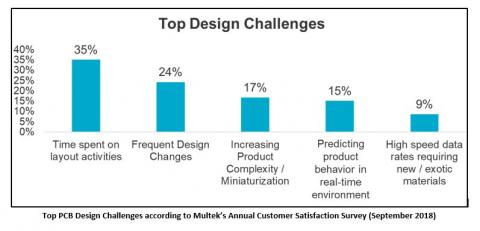 Multek, a leading provider of Interconnect Solutions, today announced its collaboration with Cadence Design Systems, Inc. (NASDAQ: CDNS), a market leader in computer-aided design (CAD) solutions, to share Multek's PCB manufacturing rules to customers as a member of the Cadence® DesignTrue DFM (Design for Manufacturability) technology ecosystem.  The DesignTrue DFM technology easily ensures customers are designing to Multek's most up-to-date manufacturing capabilities, greatly accelerating time to market.
Time spent on layout activities is the number one design challenge cited by PCB customers, according to a recent survey in which over 150 Multek customers participated.  Other top design challenges were frequent design changes, followed by increasing product complexity and miniaturization.  By integrating Multek's technology files into their design process and CAD tools from the onset, PCB designers using Cadence DesignTrue DFM technology can be sure of designing their board correctly the first time while shortening the overall PCB layout cycle and accelerating new product introduction.
"Customers want to speed up their PCB layout process, reduce the number of iterations to address DFM errors typically found during PCB signoff, and ultimately shorten new product introduction cycles," said Dr. Pauling Liu, Chief Operating Officer at Multek.  "As a founding member of the Cadence DesignTrue DFM partner program, Multek can now share our PCB manufacturing rules with Cadence customers and significantly boost PCB designer productivity.  We are proud to be part of the industry's first real-time, in-design DFM checking solution." 
Steve Durrill, senior product engineering group director at Cadence, adds "Customers have reported 50 to 67 percent fewer technical queries from manufacturers when they've used Cadence's DesignTrue DFM technology, by using manufacturer-specific spacing, annular ring, copper features, and mask rules to assure their designs are right the first time.  The technology eliminates lengthy, error-prone manual entry of hundreds of rules, and reduces rework by flagging violations in real time during the design process instead of after the design is completed."
Founded in 1978, Multek currently operates a 2.0 million square feet campus in Zhuhai, China, offering one-stop engineering and manufacturing services for rigid Printed Circuit Board (PCBs), flexible printed circuits (FPC), rigid-flex, and assembly.  Multek's plants and laboratories are equipped with state-of-the-art equipment that increasingly enable Factory 4.0 principles such as real-time application of manufacturing rules during customers' PCB design process.
About Multek
Multek, a wholly owned subsidiary of DSBJ (SZSE: 002384), is a leading value-add manufacturer of printed circuit board technologies offering a broad spectrum of PCB engineering and manufacturing expertise including high density interconnect, rigid, flexible, and rigid-flex printed circuit and assembly solutions. Serving customers in mobile, automotive, IoT, medical, wearable, telecommunications, computing, industrial and consumer electronics markets, Multek enables customers to take products to market quickly through early engineering, advanced technology new product introduction, and volume production.  For more information, visit  www.multek.com