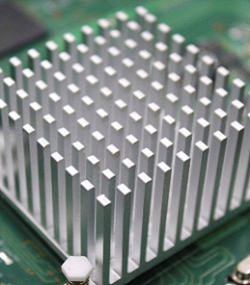 Increased component edge speeds, and greater surface mounting densities can result in temperature increases that can sharply reduce individual semiconductor component lifetimes. To help minimize these issues, Multek provides a broad suite of innovative, thermal management solutions.
Through the use of embedded heat transfer capabilities with applications in rigid, flexible and rigid-flexible architectures, Multek is able to offer processes for solid-plated microvia arrays, solid metal embedded structures ("Coins") using press-fit, plated cavity, and surface-attached heat transfer media.
For performance validation, we offer advanced thermal imaging and stochastic finite element model simulations for optimizing heat transfer from critical circuit mounted components.
Thermally Enhanced PCB
Increasing system performance and higher component edge rates often increases total power dissipation issues at the shelf level. To improve waste heat transfer to case and maintain a lower component operating temperature requires fabrication options for heat flow management. Multek offers a complete range of embedded metal structures integrated into the mass production process flow.
Our Engineering Solutions teams can recommend the best combination of factor-ready options for your product specifications. By applying heat flow and power management simulation modeling, and real time thermal imaging tools, we can provide new insights into the best embedding locations and alloy choices.

FPC with Aluminum Stiffener
For medium to high temperature applications, Multek offers a range of single-sided flexible circuits attached to aluminum stiffeners. A wide variety of configurations are available depending upon your design requirements:
Copper:
0.5oz to 2oz
Electrodeposited (ED) or Rolled Annealed (RA)
Dielectric Layers:
Polyimide 25µm (1 mil), 50µm (2 mil) or 125µm (5 mil)
PEN 50µm (2 mil)
PET 50µm (2 mil), 75µm (3 mil) or 125µm (5 mil)
Flame Retardant (FR) adhesives available
Bonding Adhesives:
25µm (1 mil) or 50µm (2 mil)
Pressure Sensitive Adhesive (PSA) or Thermal Set Acrylic
Aluminum Stiffener:
Cover Material:
Coverfilm
UV or thermally-cured soldermask
Liquid Photoimageable Ink
Surface Finish:
ENTEK
Immersion Silver
ENIG
Tin