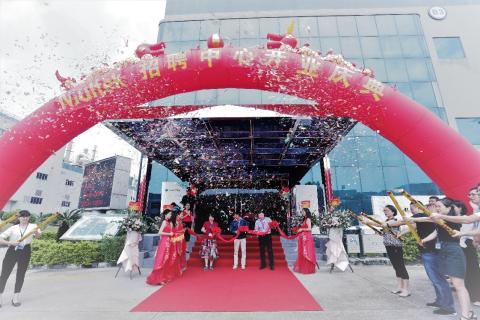 Multek, a leading provider of Interconnect Solutions, today announced the completion of its new, state-of-the-art Recruiting Center located in Zhuhai, China.  The two-story facility was designed to enable smooth and efficient processing of many applicants, and supports online registration and application via Multek's Wechat public account.  In addition, real-time background check systems linked to government databases, on-site interview rooms, and co-located Employee Union offices facilitate straight-through onboarding of qualified candidates.
During the ribbon-cutting ceremony -- which was attended by government officials, customers and other guests -- Multek Chief Executive Officer Franck Lize remarked "At Multek, talented employees form the foundation on which we build all our other strengths, be it technical expertise or fast customer service.  Our investment in this new recruiting center reflects the importance we place on talent and people.  With added ability to quickly staff up and accommodate higher customer demand, Multek is now better positioned than ever to enable our customers' success."  
"We are extremely pleased to unveil such a bright, modern, and open facility which will bring more employment opportunities to job-seekers in the local community and from across China," said Patrick Kwok, Multek's Director of Human Resources.  "Successful applicants will join Multek's diverse and international family of over 6,000 employees, which spans across five factories and over a dozen countries."
Founded in 1978, Multek currently operates a 1.6 million square feet campus in Zhuhai, China, offering one-stop engineering and manufacturing services for rigid Printed Circuit Board (PCBs), flexible printed circuits (FPC), rigid-flex, and assembly.  Multek's plants and laboratories are equipped with state-of-the-art equipment.

About Multek
Multek, a wholly owned subsidiary of DSBJ (SZSE: 002384), is a leading value-add manufacturer of printed circuit board technologies offering a broad spectrum of PCB engineering and manufacturing expertise including high density interconnect, rigid, flexible, and rigid-flex printed circuit and assembly solutions. Serving customers in mobile, automotive, IoT, medical, wearable, telecommunications, computing, industrial and consumer electronics markets, Multek enables customers to take products to market quickly through early engineering, advanced technology new product introduction, and volume production.  For more information, visit www.multek.com